Structural Headwinds Haunt Bitcoin ETFs
Three Bitcoin ETFs trading have started trading in the United States in the past several weeks. All are based on the Bitcoin (BTC-USD) futures contracts available on the Chicago Mercantile Exchange (CME). The ProShares Bitcoin Strategy ETF (BITO) debuted to much fanfare one month ago as it gathered over $1 billion in assets within a few trading days. Since then, however, two Bitcoin ETFs – Valkyrie Bitcoin Strategy ETF (NASDAQ:BTF) and VanEck Bitcoin Strategy ETF (BATS:XBTF) – have been launched with considerably less success as they have struggled to gather $50 million in assets.
Some players have withdrawn their SEC applications for Bitcoin ETFs. On November 11, Bitwise Asset Management became the 2nd firm to withdraw its SEC application to launch a Bitcoin ETF. Invesco was the first to give up.
Why the sudden loss of interest? A big factor is the headwinds imposed on investors by the Bitcoin futures contract itself. During its first 4 years of operation, the Bitcoin futures contract favored sellers. That is, its futures prices exceeded the spot market, penalizing long positions as they rolled their expiring futures contracts.
The introduction of ETFs aggravated the problem as they introduced eager new buyers to an already crowded market. This created some friction with the ETF financial partners and the exchange.
Bitcoin ETFs have to work through futures commission merchants (FCMs), which act as an intermediary between funds and futures exchange. These FCMS handle buy and sell orders for futures contracts on behalf of their clients and then settle those trades with exchanges.
The heavy interest in the Proshares ETF has FCMs concerned about their risk profile. The firm acting as an FCM for Proshares, put in regulatory capital limitations against the Bitcoin futures exposure.
The CME itself imposes restrictions on the number of contracts that one party can hold in a single month. Proshares is limited to 4000 and has had to take positions in less liquid futures contracts that lie outside the nearby month.
It's notable that the prospectus of the Proshares ETF allows it to invest in swaps, structured notes, and even equities related to cryptocurrency. That hasn't happened yet but it could. Bottom line – the ETF fund managers have to funnel buy orders into a channel that is clogged by regulatory barriers. We may see the ETFs venturing far afield from pure Bitcoin instruments.
No surprise, then, that futures prices trade at a premium to the cash market. The phenomenon is known as a negative roll yield or "contango".
I wrote an article a few weeks back that predicted high costs that Bitcoin ETF investors would face as they flood into throttled Bitcoin futures contracts. This estimate was based on negative roll yields that were observable in the futures market BEFORE the ETFs traded. In fact, Bitwise's CIO Matt Hougan confirmed this conjecture as Bitwise announced it was withdrawing its Bitcoin Futures ETF application on November 11.
"Bitcoin futures have historically traded in contango. As a result, a rolling Bitcoin futures ETF will generally underperform spot Bitcoin," Hougan tweeted. "Sure enough, that's what we're seeing: Contango today is running a bit over 6%/year."
We now have about one month's worth of return data on the ProShares and Valkyrie Bitcoin Strategy ETFs to weigh their performance against the spot Bitcoin. These results are even worse than expected. Both Proshares and Valkyrie's ETF products have been trading since late October. They have significantly lagged the spot price of Bitcoin by over 2 percent! Would you invest in a stock index fund with 24% in annual expenses? Here are the results – BITO tracked since October 20 and BTF tracked since October 22.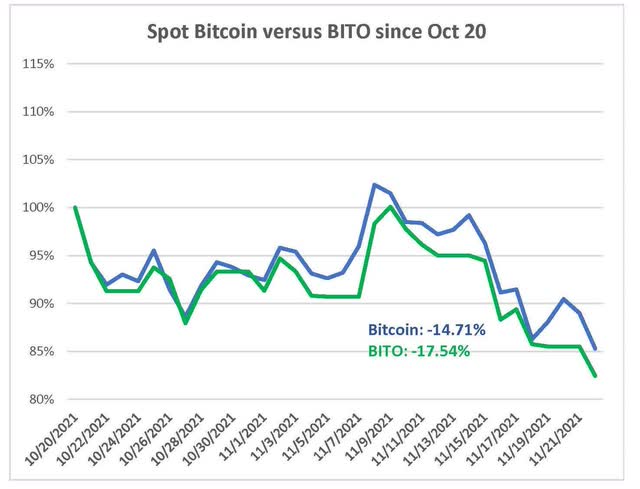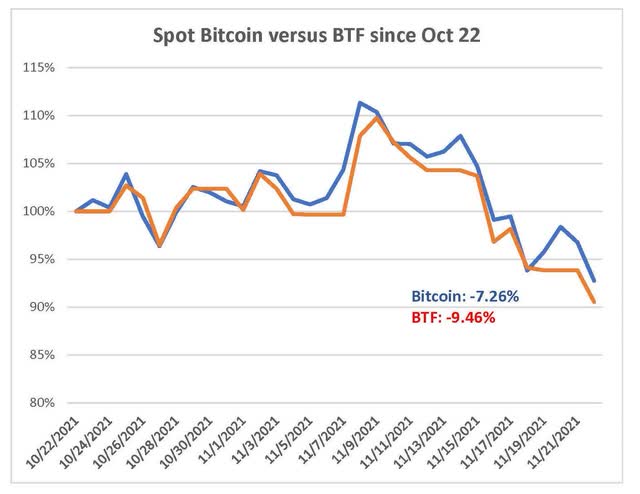 Spot Bitcoin price source: CoinMarketCap
Most wannabe players in the space have realized by now that they need to stay away from the Bitcoin futures market until it approximates fair pricing. There is no guarantee of that, of course. Other commodity markets have operated in Contango for extended periods.
For now, the near-term goal of Bitcoin asset managers is a spot Bitcoin ETF. This has run into a great deal of resistance from the SEC. Earlier this month, the SEC rejected Van Eck Associates's application for a spot Bitcoin ETF to trade on the CBOE Global Markets Exchange. One sticking point is the lack of a single price for Bitcoins. There are measurable pricing discrepancies across the various Bitcoin exchanges. The SEC typically demands clarity of pricing for the underlying assets of ETFs it approves.
Additionally, there is no regulatory authority that holds sway over the Bitcoin ecosystem. It is traded worldwide with proof-of-work distributed on all continents. The SEC likes the fact that the Chicago Mercantile Exchange is a longstanding institution under the exclusive control of US regulators. The regulator is less concerned about the performance of the products it approves than the ability to enforce fair behavior among its players. Bloomberg News summarizes:
"The Commission has consistently required that the listing exchange (CBOE Global Markets) have a comprehensive surveillance-sharing agreement with a regulated market of significant size related to Bitcoin, or demonstrate that other means to prevent fraudulent and manipulative acts and practices are sufficient," the SEC said. "The listing exchange has not met that requirement."
The SEC has signaled that it is unlikely to approve a spot market Bitcoin ETF in the near future. Dave Nadig, the CIO and director of research of ETF Trends, doesn't believe there will be a cash Bitcoin ETF for at least a year.
I think until we get clear regulation of the underlying coin markets themselves for U.S. investors, I just don't think we're going to cross that hurdle."
My message to investors remains narrow. Regardless of what you think about Bitcoin as an investment or medium of exchange, there is not likely to be a suitable ETF product for it now or in the immediate future. That thesis is explicitly or implicitly endorsed by those that work in the space.
Via: Seekingalpha
by