Bitcoin may slump below $10,000 if this technical signal is correct
The problem with coming up with a value of bitcoin is how can you arrive at one? As its critics point out, there is no intrinsic value. There are no future cash flows to discount, like a stock, because there are no cash flows at all.
One way is to come up with the cost of extraction — just as for a metal like gold or silver — using the cost of electricity and the associated computing costs required to mine a bitcoin. Another is to come up with an estimate of the global "anti-fiat" market, arriving at a market share, and then working backward.
But a third way would be through technical analysis, which involves trying to discern patterns in the charts of price and volume. Like bitcoin itself, technical analysis can be waved away as some hocus pocus that only has value because people think it has value. But if you believe in the world of Fibonacci retracement and Bollinger Bands, read on.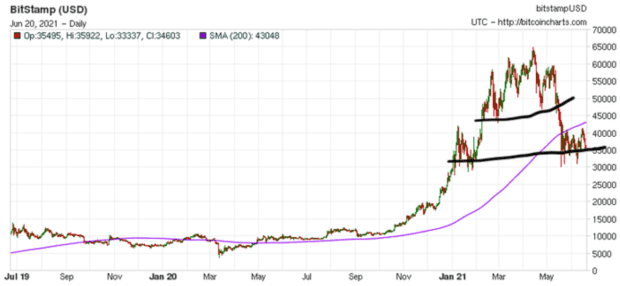 Louis Navellier, the chairman and founder of fund manager Navellier & Associates, says he has identified two head-and-shoulders formations that he thinks suggest bitcoin will fall below $10,000.
Navellier says when he asks individual investors about why they invested in bitcoin, it was more often than not because the price was going up. "If they bought it just because it was going up, they are also likely to sell it because it is going down. I think a break below $30,000 will lead to major downside, as the vast majority of trading in 2021 was done above that level, leading to what traders call 'overhead supply,'" he says.
The leverage in bitcoin — sometimes as much as 100:1 — also would exacerbate any decline, he says. "When it crashes this time around, it will be more brutal due to the large number of individual investors involved," says Navellier.
Bitcoin BTCUSD, -0.43% on Wednesday morning was trading around $34,000.
Via: Market Watch
by