This Unintended Side Effect Is Plaguing Bitcoin Cash After Its Halving
By Samuel Wan
Anticipation over the up and coming Bitcoin block reward halving continues to make headlines. But Bitcoin Cash, which forked from the original chain in the middle of 2017, already had its halving on Wednesday, April 9th.
Since then, the fifth-largest cryptocurrency by market cap has experienced several setbacks, which has led to more heated discussion regarding the already controversial token.
Bitcoin Cash Experiences Wobble After Halving
Last week, Bitcoin Cash mining rewards were cut from 12 BCH per block to 6.25 BCH. Miners of the BCH network, as a result, have had their revenues cut in half.
Analysis of how this has affected price shows a bearish response. On the day before the halving, BCH closed at $268. But since then, the price has been on a downward trend, pausing briefly over the Easter holiday weekend to continue its slide today.
However, a death cross, of the 50-day MA crossing below the 200-day MA, on the daily occurred around about the same time as the halving. This shouldn't bode well for the asset, considering the last time this transpired in September 2019, Bitcoin Cash fell 34%, from $323 to $213 over an eight-day period.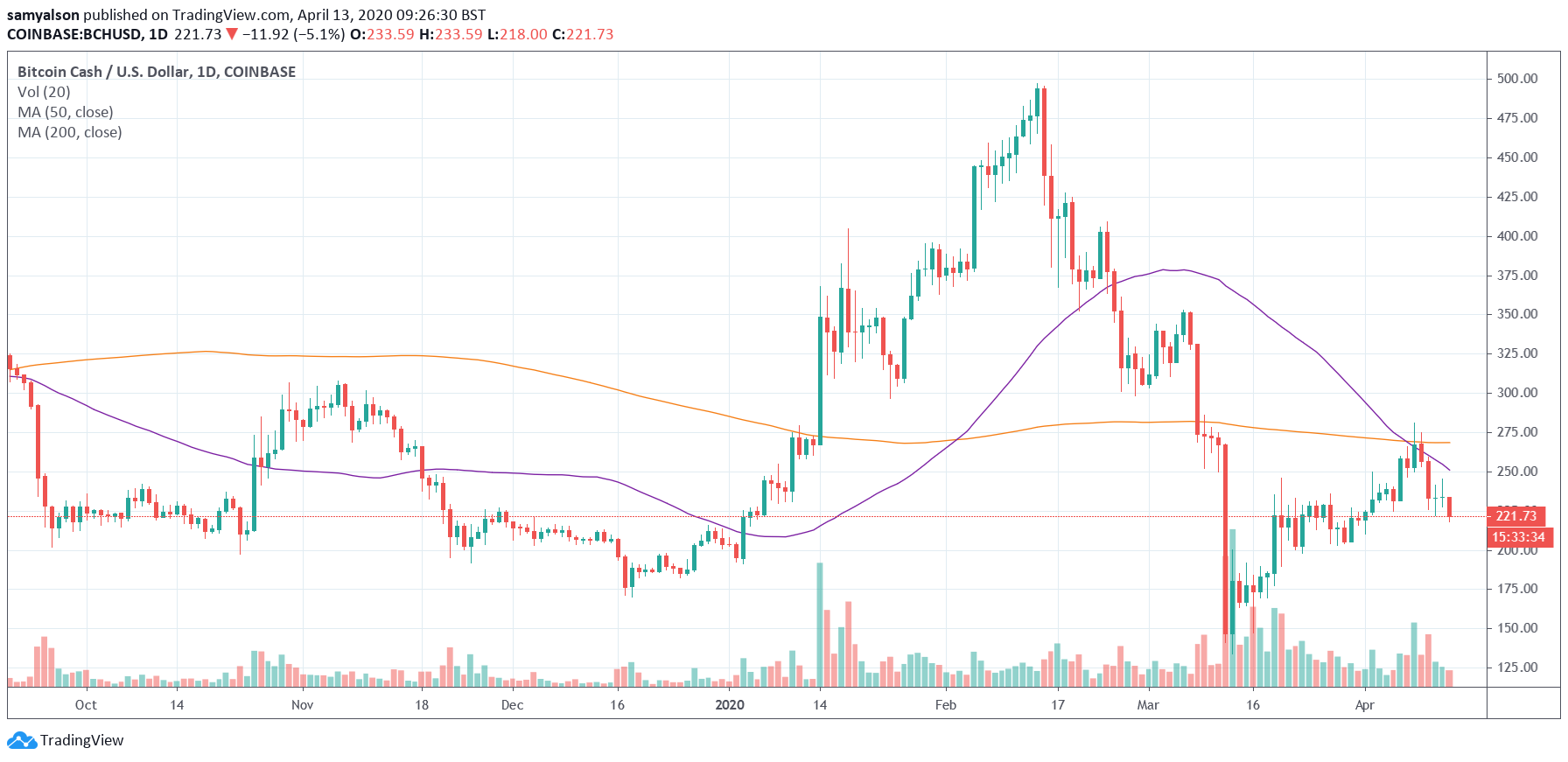 Unprofitable Miners Pull Out on Falling Revenue
Since the halving, the hash rate on the BCH network has plummeted to new lows not seen since March 2019. Hash rate refers to mining power participating in the network. The higher the figure, the greater the network security.
Data from bitinfocharts.com shows that just before the event, the BCH hash rate was 3.6 EH/s (exahashes per second.) However, following the halving, this sunk as low as 1.2 EH/s, a decrease of 67%.

by