Crypto Market Update Dec.11: Capitulation On The Go Following Another Red Week
Story by:  YONI BERGER
Another red week for the crypto market, that already looks like an unfinished avalanche. Every time the market seems settled, we experience another drop in prices.  Bitcoin lost another 15% of its price, and most of the alternative coins lost even more.
We've been in this bear market almost a year, and even the Bitcoin miners have turned off their mining rigs or are trying their luck with mining various Altcoins. Traders, investors, and companies have lost their influence and the decline in prices causes panic all around.
However, there are companies that have kept enough funds on the side and experienced traders who use leverage trading skills while enjoy shorting Bitcoin, Ether, and others. It seems that shorting has become the new trend. However, it must be remembered that for every short there could be a short squeeze.
The market went down 25% on average of trading against the dollar. Against Bitcoin, it seems that the majority of the coins are looking to base on the previous floor of support, although some have changed their trend as we have recently seen in Ripple and Factom. In addition, Smartcash price went up by 25% due to its upcoming airdrop.
The market is having hard time, when the media keeps bashing Bitcoin and the tax authorities have frozen trading activity by collecting taxes for every transaction. But it's not likely to stop the crypto market and we do expect another bullish wave in the future, after the regulation will be clear.
Bitcoin dominance at 55% | Market cap at 108 billion dollars.
Crypto News & Headlines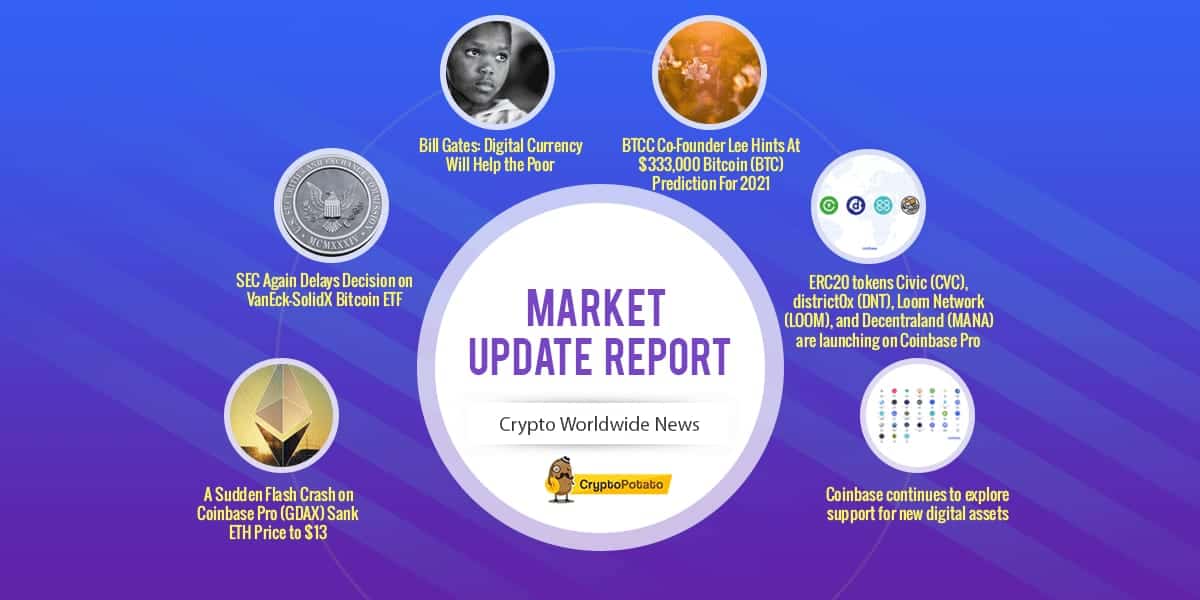 Who wants Ethereum for $13? A Sudden Flash Crash on Coinbase Pro (GDAX) Sank ETH Price. Ether's price may be sinking, but not as low as the $13 value for which it traded on the Coinbase Pro platform for a few hours on Dec 6 as traders garnered huge profits.
SEC Again Delays Decision on VanEck-SolidX Bitcoin ETF. For the third and obviously the final time, the U.S SEC has chosen not to approve or disapprove the Bitcoin ETF proposal and instead, stampeda  February 27 deadline for a final decision.
Bill Gates: Digital Currency Will Help the Poor. In a recent video, the Microsoft Billionaire was talking about crypto and expressed his belief that it can encourage equal wealth sharing and reduce the status-quo of many individuals.
BTCC Co-Founder Lee Hints At $333,000 Bitcoin (BTC) Prediction For 2021. While BTC is still fairly defending a four-digit value, Bobby Lee is predicting a six-digit value for the top cryptocurrency within the next three years.
ERC20 tokens Civic (CVC), district0x (DNT), Loom Network (LOOM), and Decentraland (MANA) are launching on Coinbase Pro. In the past week, Coinbase Pro users were thrilled by the announcementthat CVC, DNT, Loom and Decntraland's  MANA coin will launch and trade on the platform by DEC 9.
Coinbase continues to explore support for new digital assets. After recently announcing support for Zcash and several altcoins, the top U.S exchange has set its sights on making more cryptocurrencies and tokens tradable on their various platforms. Which will be next?
Researcher Warns Investors of Possible Bitcoin Cash (SV) Double Spending Attack. The Bitcoin Cash hardfork may have been completed, but a blockchain researcher took to Vimeo to explain a loophole that can make traders lose money on the chain belonging to Craig Wright.
Chart Analysis
This week we have chart analysis of Bitcoin, Ethereum, Bitcoin Cash and Ripple – Read more here.
Original story by: https://cryptopotato.com/crypto-market-update-dec-11-capitulation-on-the-go-following-another-red-week/
by