Bitcoin Takes Another Lurch Lower After Breaking $4,000 Level
Story  by: Eric Lam
Cryptocurrencies are taking investors for a volatile ride again after a relatively tranquil start to the year, with Bitcoin leading prices lower in two swift plunges.
The largest digital currency slumped as much as 11 percent to $3,574, breaking through the $4,000 level that it's maintained for most of the first full week of the new year. The Bloomberg Galaxy Crypto Index, a gauge of the largest cryptocurrencies, fell 13 percent as so-called alt coins, including Ether, Litecoin and XRP, also retreated.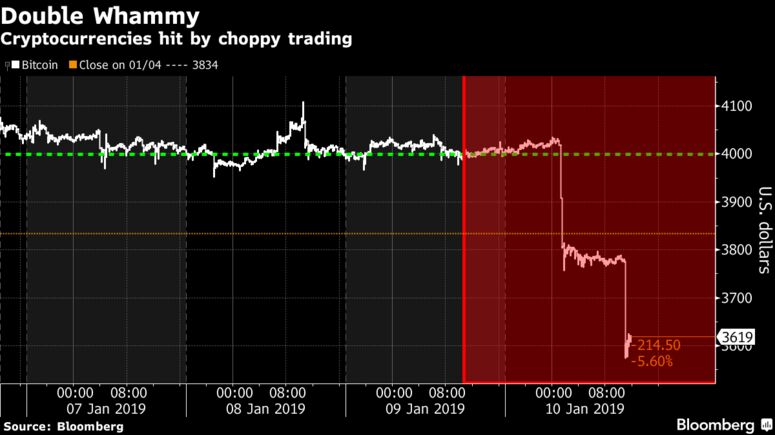 Read More: Bitcoin at the Brink as Gauge Signals an Inflection Point
Timothy Tam, co-founder and CEO of CoinFi, a cryptocurrency research firm in Hong Kong, said while there wasn't an immediate reason for the abrupt sell-off, he did notice a large transfer of about 40,000 Ether into an exchange an hour before the drop.
"Usually transfer of Ethereum onto an exchange indicates an intent to sell, and if there is a sell-off on one exchange it compounds like dominoes to another because arbitragers will sell immediately on the other exchanges as well," he said in a message.
The cryptocurrency industry took another blow earlier this week after Ethereum Classic, an offshoot of the second-largest digital currency, came under a so-called 51 percent attack, in which some computers supporting a network falsify transactions. Coinbase Inc., one of the world's largest crypto exchanges, said Monday it had found "deep reorganizations" of the Ethereum Classic blockchain. Some $1.1 million in the coins may have been spent twice.
Cryptocurrency prices plummeted in 2018 amid ongoing security concerns and regulatory scrutiny. The industry has erased more than $700 billion in value from an all-time peak of over $835 billion last January, according to data compiled by CoinMarketCap.com.
Original story by: https://www.bloomberg.com/news/articles/2019-01-10/bitcoin-declines-as-cryptocurrencies-take-a-sudden-lurch-lower
by