Bitcoin: after 10 wild years, what next for cryptocurrencies?
Story by: Richard Partington
From next no value in 2009, it rose to $20,000 and crashed back to $3,000 within a decade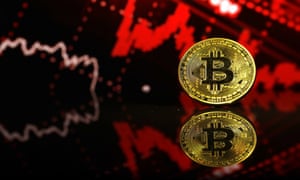 Two years after its inception, 10,000 bitcoin was just about enough to buy a couple of takeaway pizzas. Today those bitcoin would be worth nearly $38m (£30m). That is a huge increase, but just a fraction of their $180m value only 13 months ago, because since its creation a decade ago this week, the digital currency has been at the centre of one of the biggest economic bubbles in history.
Bitcoin has had a wild ride since its birth on 3 January 2009. Created as a digital currency to sidestep the traditional finance industry using encrypted code, it took until May 2010 for the first reported purchase using bitcoin to take place: those two large Papa John's pizzas worth $30 for 10,000 bitcoins.
But in recent years bitcoin has become less useful as a medium of exchange and more famous for its boom-bust tendencies – drawing parallels to the Dutch tulip mania of 1637 and Dante's Inferno for its ability to lose investors millions of pounds.
It surged by more than 1,000%, sometimes gaining $2,500 in a single day, to stand at almost $20,000 just before Christmas 2017. But the digital currency then crumpled over the course of last year, and yesterday stood at just $3,780, having wiped out many investments on the way down.
Nouriel Roubini, one of the few economists to predict the 2008 financial crash and a former White House economic adviser is one of Bitcoin's most vocal critics. He has called it the "mother of all bubbles" and tweeted last month that it,and other crypto copycats like Ethereum and Litecoin, should be ranked in a "2018 Shitcoin Hall/Pile of Manure Shame".
But despite the cautionary warnings from mainstream economists, as well as the finance industry labelling bitcoin a vehicle for scammers, crooks and terrorists, there are still legions of cryptocurrency fans, with an online cottage industry of news websites, blogs and podcasts.
The digital currency launched as more than just an opportunity for investors to make millions (before losing them almost equal amounts). The technology underlying it has excited businesses, while the growth of cryptocurrencies promised another future for its fans outside the traditional financial system.
At its launch a decade ago, the very first block of bitcoin was etched with a subversive statement: "The Times 03/Jan/2009 Chancellor on brink of second bailout for banks."
The idea came straight from the Austrian school of economics with a pinch of left-wing anarchism thrown in for good measure – offering individual liberty and a way to avoid the grasp of government, while sidestepping corporate power and the banking system.
The birth of the digital currency represented a return to the days of private money in the earlier stages of western economic development, with a parallel to wildcat banks in the mid 19th century as the US expanded westward, when railway companies and construction firms issued thousands of banknotes between them.
Scores of bitcoin copycats have emerged, hoping to ride the wave of euphoria evident in 2017, launched through initial coin offerings (ICOs) that in several cases turned out to be fraudulent scams.
As with the age of private money, which led governments to create monopolies over currency under the auspices of the central banking system, in order to gain state control and to protect consumers from firms and individuals unable to repay the holders of their notes, bitcoin also appears to be heading for a more tightly regulated future.
The UK government is poised to give sweeping new powers over digital currencies to the Financial Conduct Authority, after MPs warned that it and other cryptocurrencies were akin to the "wild west" and exposed consumers to various risks. Central banks including the Bank of England are examining cryptocurrencies, while some countries have looked to create their own.
Despite losing some investors millions of pounds, the bitcoin boom and bust has also attracted attention to its underlying technology – the blockchain – which may be used to revolutionise the way companies handle payments or transfer information.
Kiran Nagaraj of the accountancy firm KPMG said company executives increasingly ask about how they can use digital currencies or blockchain technology. "Credit to bitcoin, it created an awareness. The 2018 bear market will help create better quality services and products for the whole space overall," he said.
There are fears however that the institutional wave of investors that rushed to buy cryptocurrencies last year may slowly melt away. JP Morgan has warned that more professionals are ditching bitcoin than investing. After the launch of bitcoin futures on the Chicago Board Options Exchange a year ago – viewed by enthusiasts as its arrival in the mainstream – trading interest has slumped.
Wild estimates were made for the future value of bitcoin a year ago. John McAfee, the software security company founder, predicted it would reach $500,000 by the end of 2020. The Winklevoss twins, who have invested significant sums in bitcoin, argued it could end up matching gold in value, meaning a price above $320,000 and total market capitalisation of at least $4tn.
The argument went that prices only exist for any given asset because society agrees it is worth that amount, and why should bitcoin be any different, even if it lacks physical properties. But while gold also has limited utility to justify its value, unlike bitcoin the precious metal has been held in high regard for millennia.
At the start of its 10th year, predictions for Bitcoin's future are modest. Stephen Innes, head of trading for Asia Pacific at the currency trading firm Oanda, is moderately optimistic: "A bit of risk is still in the air but I'm starting to warm up to the upside now … we could see $5,000 and even a push to $6,000 on a convincing enough break of the key $5,000 mark."
Clement Thibault, senior analyst at Investing.com, reckons investor confidence has been shot for the time being: "I believe too many would-be early adopters got burned badly last year, and once an asset has been labeled a bubble, a gamble, or a speculative investment, it takes time to rebuild the trust and appeal needed to push the asset forward."
There are still those, like Roubini, who believe bitcoin could – or should – be wiped out entirely, while Teunis Brosens of the Dutch bank ING, reckons it will just disappear into relative obscurity: "This time last year I wrote a note saying [bitcoin] will become a niche asset," he said. "I'm happy to say I think that view aged well."
In these critical times …
… The Guardian's US editor John Mulholland urges you to show your support for independent journalism with a gift to The Guardian. We are asking our US readers to help us raise $1 million dollars by early January to report on the most important stories in 2019.
A note from John:
In normal times we might not be making this appeal. But these are not normal times. Many of the values and beliefs we hold dear at The Guardian are under threat both here in the US and around the world. Facts, science, humanity, diversity and equality are being challenged daily. As is truth. Which is why we need your help.
Powerful public figures choose lies over truths, prefer supposition over science; and select hate over humanity. The US administration is foremost among them; whether in denying climate science or hating on immigrants; giving succor to racists or targeting journalists and the media. Many of these untruths and attacks find fertile ground on social media where tech platforms seem unable to cauterise lies. As a result, fake is in danger of overriding fact.
Almost 100 years ago, in 1921, the editor of The Guardian argued that the principal role of a newspaper was accurate reporting, insisting that "facts are sacred." We still hold that to be true. The need for a robust, independent press has never been greater, but the challenge is more intense than ever as digital disruption threatens traditional media's business model. We pride ourselves on not having a paywall because we believe truth should not come at a price for anyone. Our journalism remains open and accessible to everyone and with your help we can keep it that way.
We want to say a huge thank you to everyone who has supported The Guardian so far. We hope to pass our goal by early January 2019. Every contribution, big or small, will help us reach it. Please make a gift today to show your ongoing support for our independent journalism. Thank you.
Original story by: https://www.theguardian.com/technology/2019/jan/04/bitcoin-after-10-wild-years-what-next-for-cryptocurrencies
by